Key characteristics of Industry Leaders The number of leaders engaging in B2B and EDI initiatives have doubled in percentage in recent years. The pressure driving the need for B2B collaboration are not temporary, due to increasing demand from customers and increasing complexity in supply chain and globalization. The fact is rising Supply Chain costs are driving B2B adoption and Enterprises are looking to do more with less. Business risks have increased and business agility decreased due to global business challenges that have created challenges for I/T organizations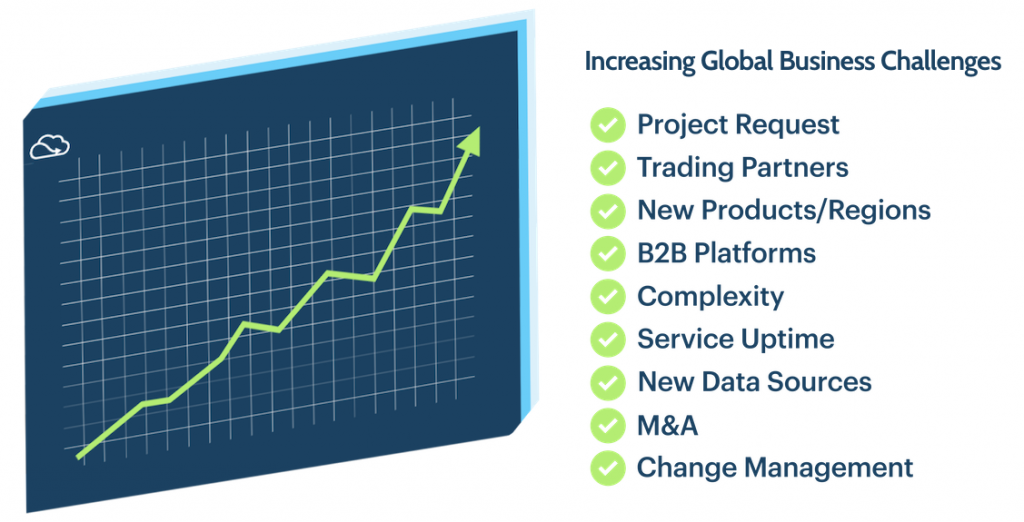 Complexity of multi-enterprise integration is forcing companies to switch internally managed EDI integration projects to external service providers as integration is become inherently more complex, costly, and constant
Complex
Enterprise Integration. Proliferation of new data sources
Global Support
New B2B Standards emerging
Disparate or Overlapping Capabilities
Costly
Redundant, aging IT platforms
Perpetual Maintenance Fees
Labor intensive
Compliance and Governance
Constant
ERP and B2B Upgrades
24 x 7 x 365 service uptime
Dynamic Trading Ecosystem requirng constant changes
Mergers and Acquisitions
These Ever Changing Global Business Needs Requires a New Way of Thinking for IT Leaders. Integration becomes a Bottleneck and New Strategies become a Business Imperative. The following represents Characteristics of Industry Leaders.
Integration Platform Strategy and Reference Architecture
Leaders
Understands ROI of integration investments.
Deploys robust EDI integration capabilities to complement other methods of Enterprise Integration (e.g. API, IoT, RAW, WebEDI, Telematics, ELD)
Operates Center of Excellence with established governance processes
Invest in Complete Unified Integration Platform (iPaaS) that future proofs investments in integration infrastructure and extends support for secure data integration to Cloud and Hybrid Applications and Databases, Trading Partners, and Devices
Onboarding toolset, including data mapping, orchestration, connectivity, and onboarding community management optimized to save time.
Laggards
Operates multiple aging or redundant software platforms
Adopts on-premise point solution(s) with minimal capability
No B2B automation or data integration strategy
Implementation Services: Flexibility of Choice
Leaders
Does not get locked in to B2B Managed Services for support of integration solutions and onboarding programs.
Self service or systems integrator service support available as required by the business or I/T
Provider supports Hybrid approaches. For example, business performs self service, but augments with Managed Services as required to support business needs
If the integration platform allows for trading partners to onboard themselves, this can reduce costs and improve time to value as well.
Laggards
Doesn't have the required resources or skillsets to support the business needs, when needed
Locked into services models that do not flex with the business
Process Automation
Leaders
Designs solutions for automation with underlying platform across ALL multi-enterprise business applications
Deploys real time dashboard to all transaction events across all processes
Manage by exceptions model. Ensure real-time visibility to process exceptions
Laggards
Continued reliance on offline technologies like phone, email, fax. Manual processes that costs the business in areas of data quality and time
Lack of real time visibility to process failures that can negatively impact business
Business Continuity
Leaders
Integration platforms supported across multiple data centers and geolocations with high SLAs for service uptime and incident management
Laggards
Single data center instance with little to no redundancy
Security and Compliance
Leaders
Robust regulatory compliance such as PII, PCI, SOC 2, GDPR
Ability to encrypt data in transit and at rest
Laggards
Integration infrastructure not in regulatory compliance
Still use unsecure protocols such as FTP
Conclusions
A modern cloud integration Platform as a Service (IPaaS) + Managed Services Option provides the best value and capability for a business providing the flexibility and freedom for business innovation and agility
To support digital transformation initiatives, the Justransform iPaaS platform can provide businesses the following

Always on cloud platform that protects integration investments today and in the future
Rich security and regulatory compliance support for requirements like GDPR, SOC2, ISO27001
Modern, Secure, Scalable, Elastic, Highly Available and DR Enabled platform with 24 x 7 x 365 support
Ability to integrate data from all data sources securely and on time
Ability to onboard all trading partners via a single platform
Ability to orchestrate business processes across a diverse ecosystem of SaaS, PaaS, On-Premise, Trading Partner, and IoT data sources.
Real Time Visibility and Configurable Dashboards
Fixed vs. Variable Metered Budgeting. Ability to tap into necessary resources on-demand (Managed Services).